Founded in 1991, CAD-IT is a leading global ISO 9001:2008 certified Product Life Cycle Management (PLM), manufacturing and education provider. CAD-IT's mission is to provide world-class solutions and services that enable companies and their supply chains to achieve greater product innovation, quality and productivity with drastically reduced time-to-market and costs.
With 12 offices in SEA (Singapore, Malaysia, Thailand) and China (Shanghai, Beijing, Shenzhen, Guangzhou and Hong Kong), Europe (UK) and USA (South Carolina) as well as 2 manufacturing plants in China (Shanghai, Suzhou), which are ISO 9001:2008 and ISO TS16949:2002 certified, CAD-IT has since built a customer base of more than 2,000 engineering companies and trained over 10,000 professionals.
CAD-IT's suite of PLM solutions include the distribution, maintenance, support and training of ANSYS (Multiphysics Finite Element Analysis or FEA, and Computational Fluid Dynamics or CFD), Cortona3D (Technical Communication Automation), Ensight (Extreme Visualization), Goldfire Innovator (Innovation Process Management), Moldflow (Plastics CAE), Deform (Metal Forming CAE), Stampack (for Sheet Metal Forming) and Mentor Graphics' Valor (Electronics Design for Manufacturability or DFM), amongst others.
As a certified partner of the Singapore Workforce Development Agency (WDA), CAD-IT has helped many companies upgrade their technological capabilities in undertaking high-value Research and Development responsibilities through its Advanced Certificate Program under the Precision Engineering Workforce Skills Qualification (PE-WSQ) Framework.
CAD-IT is honored to have received over 80 international and national awards since its inception for marketing and service excellence. Among its most recent accolades are the Singapore Enterprise 50 Award (2013, 2012), Singapore SME 1000 (2013, 2012, 2011), Asia Pacific Entrepreneur Award (APEA) - Outstanding Entrepreneur Award (2012, 2010, 2009), the Singapore Prestige Brand Award SPBA - Established Brand Award (2012, 2011, 2010, 2009), SPBA - Regional Brand Award 2012 and SPBA - Hall of Fame 2012.
Vision and Mission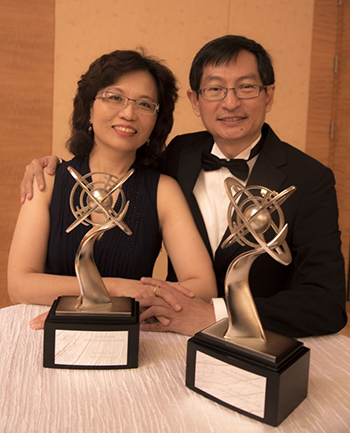 Company Founders: Chief Executive Officer Mr Terence Chan (right) and Chief Operating Officer Ms Florence Tan (left)
at the Asia-Pacific Entrepreneurship Awards 2012
Vision
To be the preferred Design and Manufacturing Partner to our valued customers and a key global contributor to the successful use of innovation and technology, based on a Christ-centred company culture.
Mission
To provide world-class design and manufacturing solutions, thereby helping our customers and their supply chains achieve greater innovation, quality and productivity, reduced costs and time-to-market, by being good stewards of the resources God has blessed us with.